Colorado Governor & First Lady's Special Ornaments

At the request of Governor Bill Owens and First Lady Frances Owens, a special set of Colorado ornaments were created as gifts for visiting dignitaries and for fund raising efforts to restore the Governor's Residence. Since 1999 the demand for the limited edtion ornaments has been overwhelming. The limited edition ornaments are sold each winter at the Governor's Mansion. During designated tours, Frances Owens plans to be on hand to sell the gold and silver dipped holly, aspen leaves, spruce sprigs, and ponderosa cones--some of which are gathered from the mansion's grounds. Be sure to visit and get your Colorado collectible!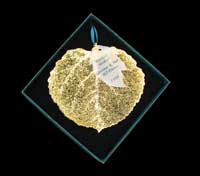 Each ornament is packaged in a custom Colorado State Seal gift box with a personalized tag from the Governor and First Lady.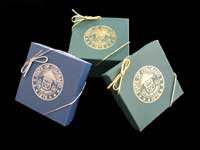 The boxes proudly display the Colorado State Seal.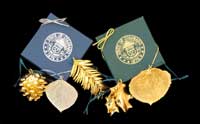 During the first term of office the ornaments were plated in 24k Gold. We are currently working on the selections for the second term. The whole set makes for a remarkable collection.